RAIN

DRAIN®
The Amazing Rain Drain®
Rain Drain® products offer an essential rain removal system for protection against erosion and washouts to landscaping, and will deliver drier foundations and basements to assist in retaining structural materials.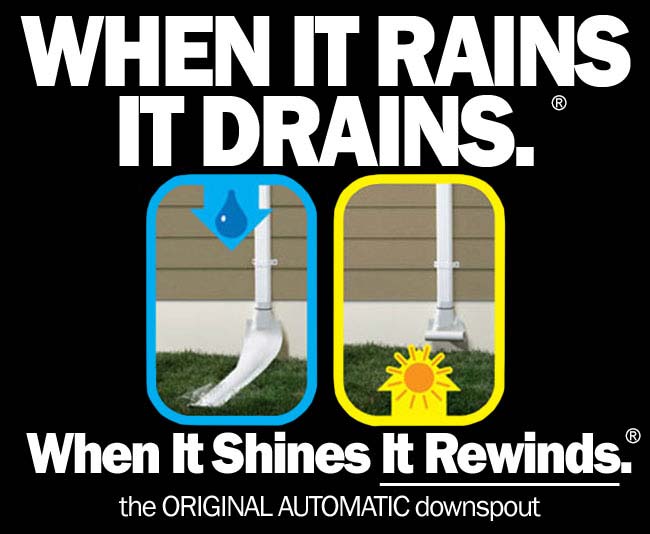 When It Rains, It Drains. When It Shines, It Rewinds.® The Rain Drain® rain removal system is that simple in operation. The force of the rain traveling to the downspout will start the Rain Drain® water extension process through the perforated holes. It rains and it will automatically unroll, the rain stops and it will automatically rewind. Simple process, vital protection. Exclusively designed and engineered with a built-in flush system. Simply slide the grooved plastic fastener off from the end of the Rain Drain® to flush and release any debris to flow through.

Rain Drain® URD46 is constructed with UV inhibited vinyl for durability and pliable softness. Rain Drain® URD46 is available in four colors to coordinate with the exterior, or landscape design. White, Tan, Dark Brown, and Green.
46" Rain Drain® Gutter Attachment (URD46)
Description: Automatic unwind & recoil. Fits standard downspouts – 2" x 3" and 3" x 4", and 4" round.
Colors: White, Bone, Green, Brown

8 ft. & 12ft. Rain Drain® Perforated Rolls (RD8) / (RD12)
Description: Constructed with UV inhibited polyethylene. These long perforated rolls fit standard downspouts that are 2"x3" 3"x4", and 4" round and are easy to install. Fastening tie included.
Colors: Green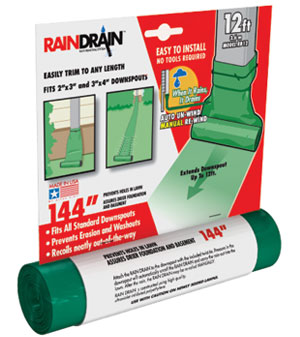 100 ft. & 1000 ft. Rain Drain® Non-Perforated Roll (TB100) / (TB1000)
Description: Rain Drain® non-perforated rolls are of quality UV inhibited polyethylene tubing that is conveniently and quality packed in a box for quick water drainage and redirection. Customize a cut to a specific length by the foot for a certain project. Store the rest and be prepared to have this vital water protection on hand for future use. The TB100 allows you to divert water long distances through the non-perforated UV inhibited polyethylene for rapid water removal. Fastening devices not included.
Colors: Green
Ideal For:
Flooded areas outside/inside
Extreme weather conditions
Swimming pool drainage
Assistant to sump pump for basement flooding
Construction sites
Landscaping projects