RAIN

DRAIN®
The Amazing Rain Drain®
Rain Drain® products offer an essential rain removal system for protection against erosion and washouts to landscaping, and will deliver drier foundations and basements to assist in retaining structural materials.
Frequently Asked Questions
May I install the URD46, RD8 or RD12 up to a sump/water pump?
NO, these products are recommended to be installed on a downspout for proper operation and water removal. You may purchase a TB100 – 100 ft of non-perforated tubing to move water from a problem water area. The TB100 comes in a convenient box and may be cut-to-length as needed for a project.
What do I do if leaves or pine needles get into my Rain Drain®?
If you begin to see that your Rain Drain® is having trouble rewinding, or draining, check to see if you need to flush out any debris to begin draining again. The URD46 Rain Drain® has a plastic slide bar that is easily removed to flush out any debris caught in the Rain Drain®. Simply slide the bar off and allow for debris to escape.
Do I need to remove my Rain Drain® products from my downspouts for the winter?
YES, we recommend that if you live in a region that gets below 32° degrees that you remove the Rain Drain® products and store for the winter months. This will add to the life of you products.
How many colors do you offer?
The Rain Drain® URD46 – 46" in length is available in white, tan, dark brown, and green. The RD8, RD12, TB100 and TB1000 are offered in green.
How do I install the Rain Drain®?
The URD46 comes with an adhesive gasket and cable tie. (no tools required)
Apply the adhesive gasket around end of clean downspout 1.5 inches from bottom. The downspout should be no more than 6-11 inches off of grade (from the ground)
Position the Rain Drain® over the downspout, about 1 inch above gasket.(Note: Coil must face away from house)
Secure by tightening cable tie over the Rain Drain® and gasket.
For best performance, we recommend installing the Rain Drain® directly to the downspout and to remove any curved or horizontal sections.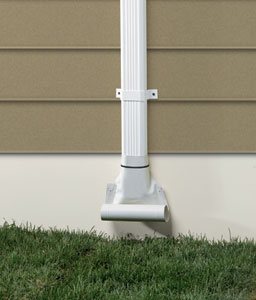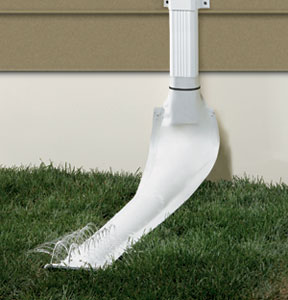 Why isn't my Rain Drain® unwinding?
Rain does need to be a substantial flow down to the downspout in order to begin the rain removal system. Check to be sure that your gutters are not clogged with any debris.
What if I have a question that is not addressed in your FAQ section?
Please feel free to call us at our customer service line (262-898-3991), if we have not addressed an issue that you may have regarding our products.
Does the Rain Drain® product line have a warranty?
Yes, 60 days from date of purchase for manufacturing defects only. Contact the retailer where it was purchased.